Introduction
Full-scale monster truck tours such as Monster Jam® fill arenas with capacity crowds eager to see world-class drivers compete in racing and freestyle events. The designers at Axial® Racing have used their crawler expertise to create the perfect platform for bashers who want to build their perfect RC scale monster beast. The 1/10 scale Monster Truck RAW Builder's Kit is centered on the SMT10™ tube frame 4WD chassis, which was developed for maximum bashing strength and an extremely detailed appearance. It's very similar to those used in full-size monster trucks. That's why the chassis excels at hard-core action over grass, gravel, pavement and asphalt tracks. Start with the Monster Truck RAW Builder's Kit, add your favorite performance electronics and scale body, wheels, and tires — and put together the powerful monster basher of your dreams!
Overview
The headlining attractions at Monster Jam® motorsport events are undeniably the large, loud monster trucks. They keep audiences roaring and riveted, whether they're battling for the lead in traditional racing or flexing their freestyle muscles through two minutes of gravity-defying tricks and stunts. For its part, Axial® has earned legions of RC racing fans by producing crawler vehicles that keep on pounding over the toughest obstacle-strewn tracks. Axial® knows how to make models that provide almost unlimited potential to adventure and explore.
Now Axial® has turned its attention to creating a monster truck platform for bashers to make their very own, and the result is the SMT10™ Monster Truck RAW Builder's Kit — a true-to-scale, 4-wheel drive, straight-axle RC truck that offers an ideal foundation of performance and realism.
Axial® designers went all out when creating the SMT10™ monster truck chassis and roll cage. Very similar full-size Monster Jam® truck chassis, the SMT10™ tube frame was developed for maximum strength and has an extremely realistic appearance. It provides a variety of shock mounting points for suspension tuning options, with additional mounting points on the cage and at the axle for moving the shocks to a more scale, vertical position if desired. Mated to the proven Axial® AR60™ axle, the SMT10™ chassis' 4-link suspension soaks up any obstacles in its path.
The AX10™ transmission included with the SMT10™ Monster Truck RAW Builder's Kit is designed to make the most of your motor's power. Its Dual Pad slipper system features a pad on each side of the spur gear to increase surface area, resulting in improved tuning precision and holding ability. Strong 32-pitch gearing enhances performance in high-torque applications.
Experience the thrill of arena monster truck action wherever you bash with the Axial® SMT10™ Monster Truck RAW Builder's Kit. Add your choice of body, wheels, tires and electronics and unleash your inner beast!
Needed to Complete
Radio system
Motor
Electronic Speed Control
Tires
Battery
Battery Charger
What's in the Box?
(1) Axial® SMT10™ Monster Truck RAW Builder's Kit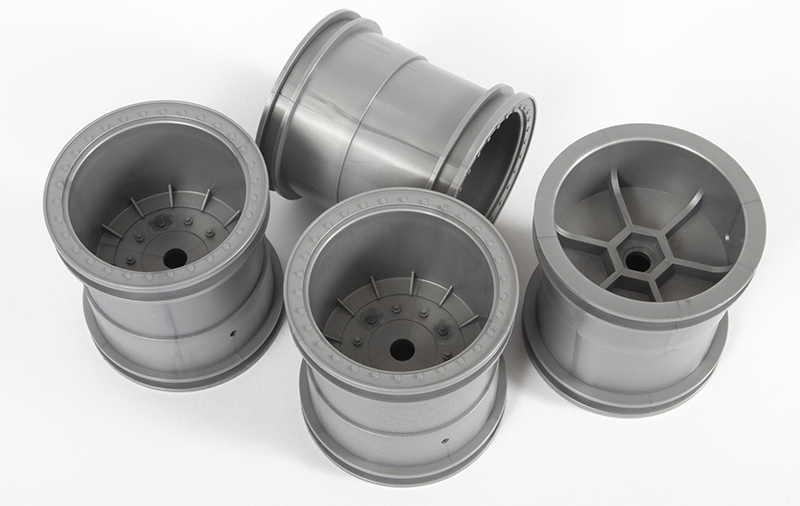 2.2 MONSTER TRUCK WHEELS INCLUDED!
The 2.2 monster truck wheels are molded from high-quality nylon and secured with a solid 12mm hex mount. Breather holes improve handling by allowing air to escape and minimizing the bounce when tires impact the ground.
2.2 Monster Truck Wheels (silver)
Molded from a blend of high quality nylon materials for strength and durability
Solid 12mm hex mount
NOTE: Tires sold separately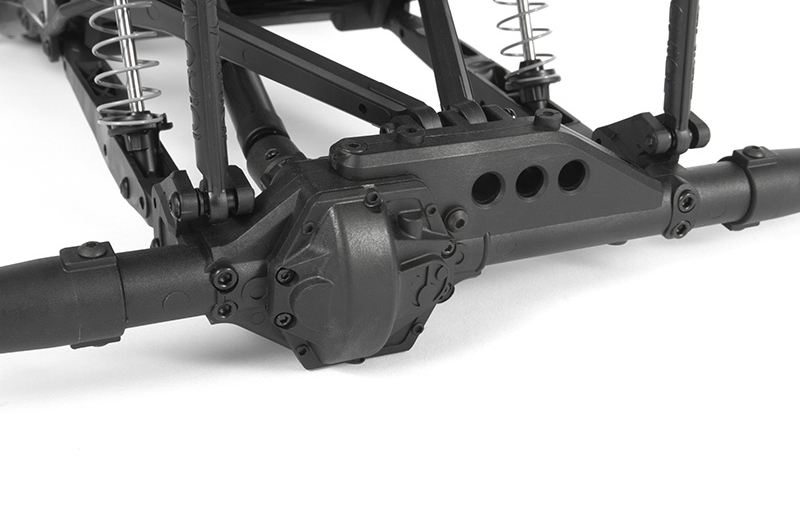 AR60™ OCP-AXLE
AR60 OCP-Axle - The AR60 OCP-Axle™ is constructed from high strength composite material which has a low flex rate but is not as brittle as standard glass filled nylon. The combination of our axles and a true 4-link suspension gives you optimal performance for any terrain with the look of a real 1:1 vehicle.
Off-center pumpkin design
Axle tubes are reinforced with a boxed-in axle truss
High strength composite material
Updated steering knuckles for dual shear, also eliminates secondary bolt on plate
Updated differential cover and servo mount for new look

AX10 TRANSMISSION, ALL METAL INTERNAL GEARS
Updated Dual Pad slipper system with 32 Pitch gearing. New slipper design uses a pad on each side of the spur gear for added surface area. More precise tuning and holding power. Stronger 32P gearing for high torque applications. 56T Spur / 14T Pinion RTR gearing for 2S.
All metal internal transmission gears
Metal motor plate
32P gearing
Heavy duty slipper
Sealed gear cover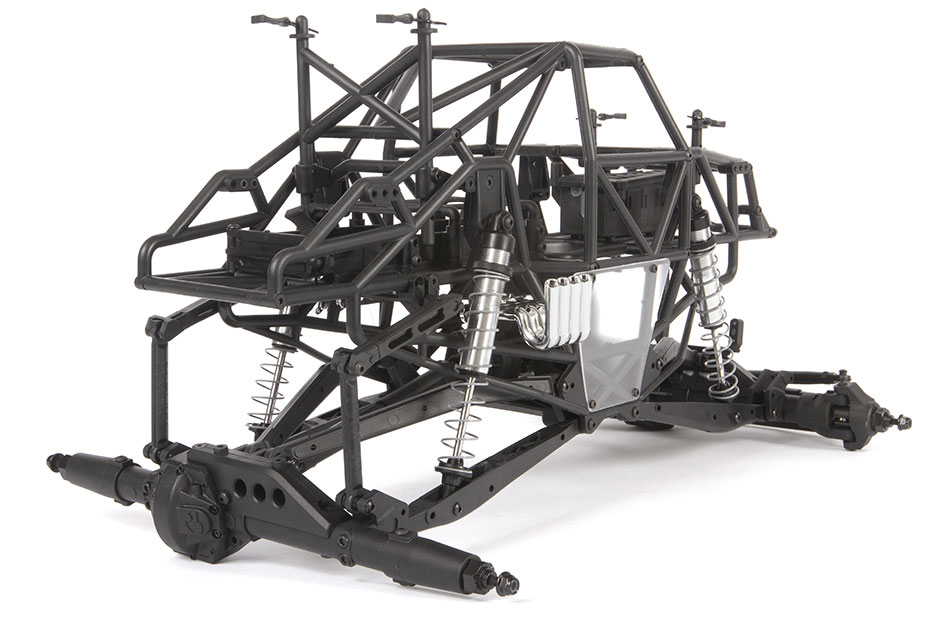 SMT10™ TUBE FRAME CHASSIS
Axial went all out when designing the chassis and roll cage for the SMT10™ Monster Truck. Very similar to the modern era full size monster trucks, this chassis was developed for maximum strength and an extremely detailed appearance. The chassis offers many pivot points for suspension tuning. Scale realism and strength are achieved through triangulation of the chassis tubes, making it ready for maximum attack and hard core Monster Truck bashing.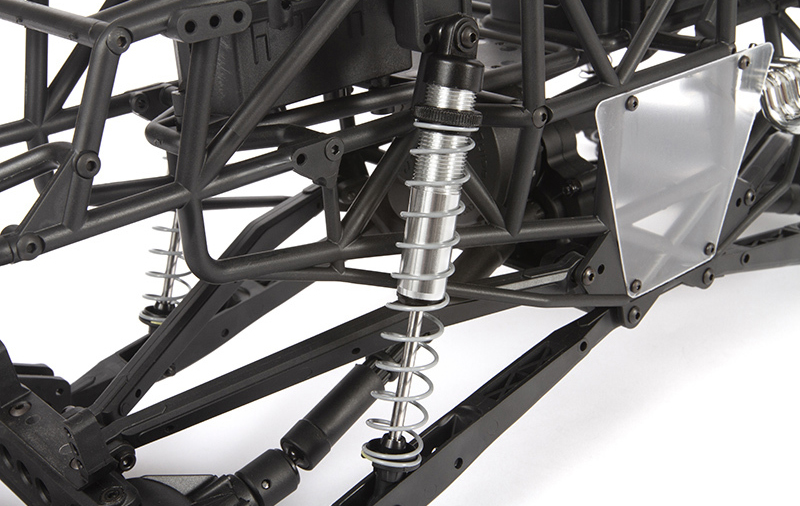 MULTIPLE SHOCK MOUNTING POSITIONS
We've included a variety of shock mounting points for additional suspension tuning options. There's also additional mounting points on the cage and at the axle for moving your shocks to a more scale, vertical position if desired.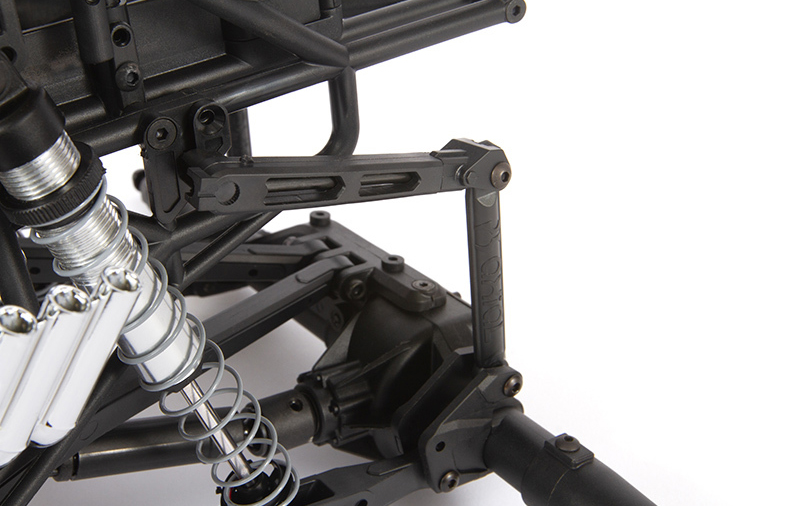 REAR SWAYBAR FOR ADDED STABILITY
A rear sway bar is included to help keep torque twist and body lean to a minimum during acceleration. A sway bar's main function is to control body roll, yet still allow your shocks to move vertically with the changing terrain. The SMT10™ chassis design allows you to add an optional sway bar to the front.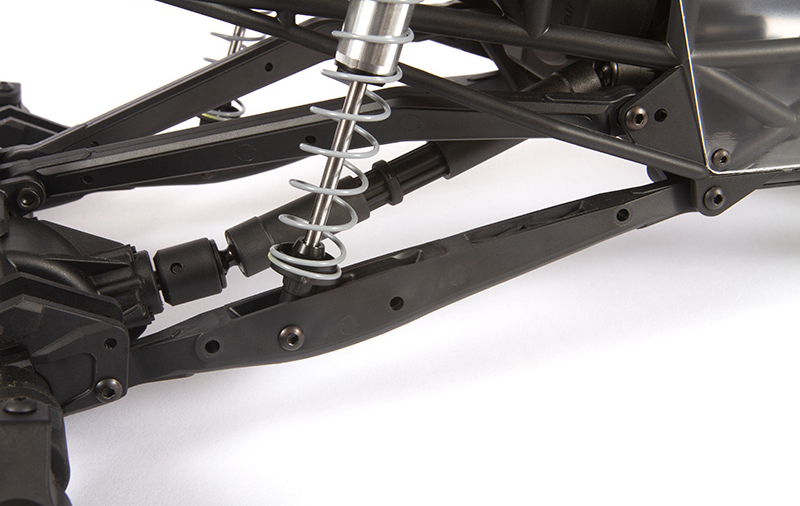 TRAILING ARM 4-LINKED SUSPENSION
The SMT10™ features the proven AR60 axle with a trailing arm 4-linked rear suspension and additional shock mounting positions.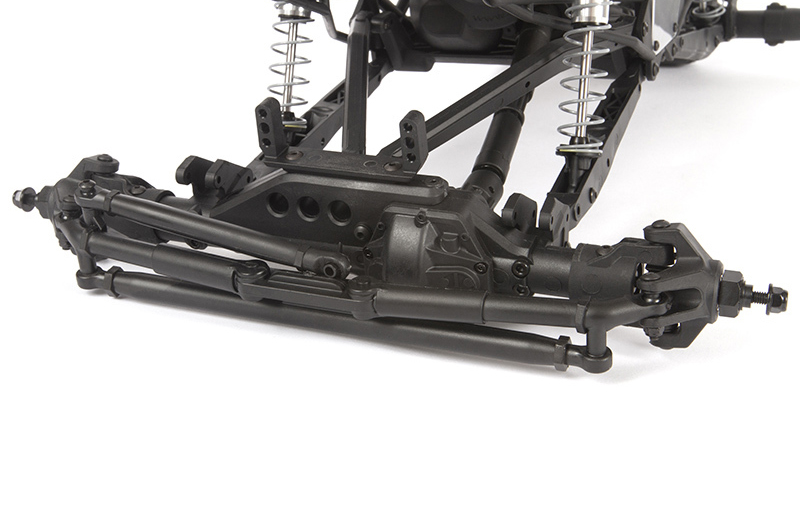 HEAVY DUTY STEERING LINKS
For steering, we've designed a heavy duty tie rod, drag link, and simulated scale hydraulic ram steering link to help get your choice of tires pointed in the right direction so you can stay on course. NOTE: Tires not included, sold separately.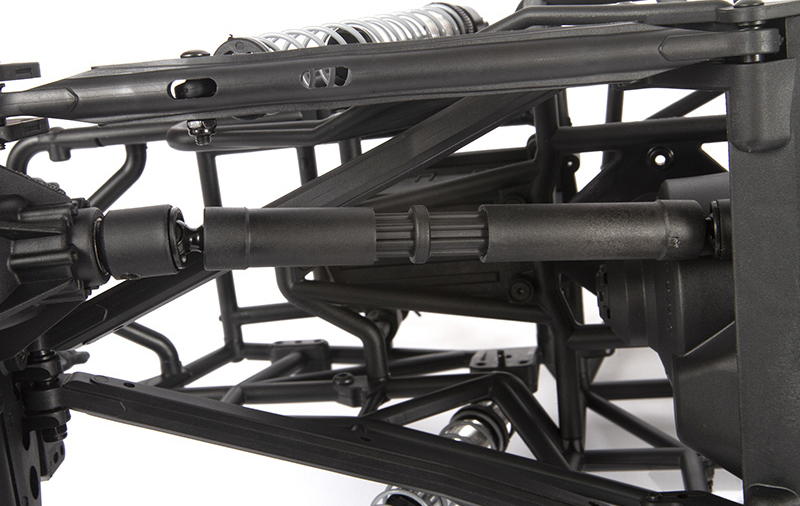 WILDBOAR™ DRIVESHAFTS
Updated design for larger diameter crosspin (2x11mm) for added strength. New center splined slider floats between each end, added material on this part reduces flex and fatigue.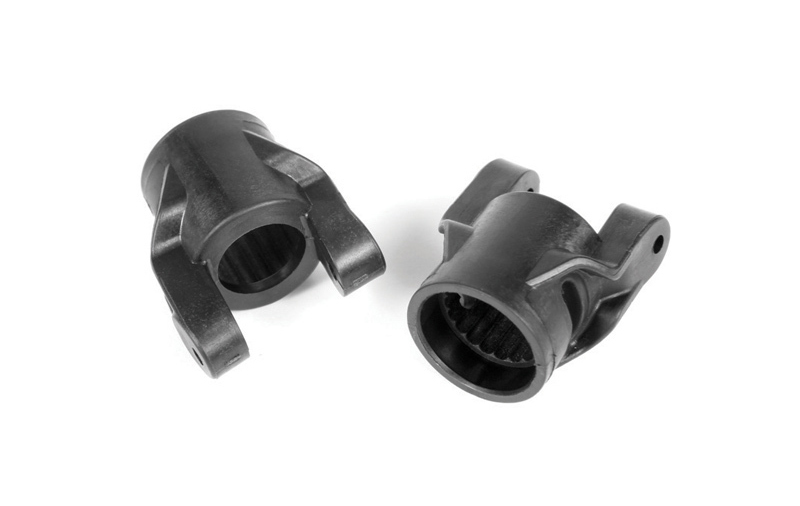 HEAVY DUTY C-HUBS
Monster trucks are known for wild, high flying action, so we've strengthened the front c-hubs to help take on hard impacts from jumps and extreme bashing!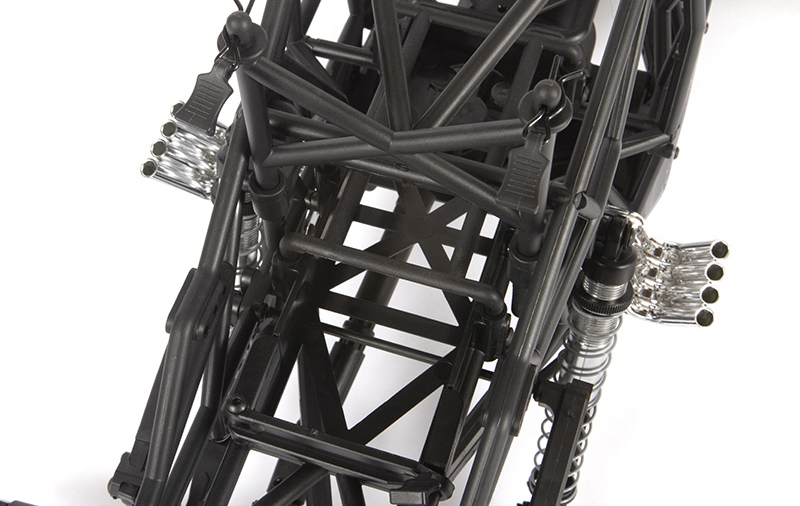 EASY ACCESS BATTERY TRAY
The battery tray can be easily accessed at the rear of the vehicle. To install your battery, remove one pin, swing out the tray door and slide the battery pack in. The tray is fully height adjustable with four screws, making room for most standard sized 2S and 3S LiPo battery packs.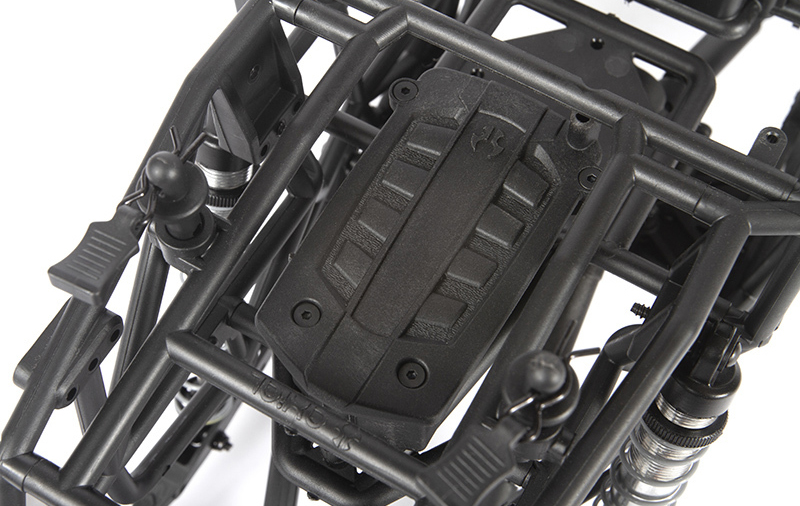 RECEIVER BOX, WATERPROOF
The waterproof receiver box utilizes three different silicone seals: one for the antenna, one for servo wires (includes three slots for three channels), and one acts as a gasket for the receiver box cover. No more stress when running in mud, water, or snow!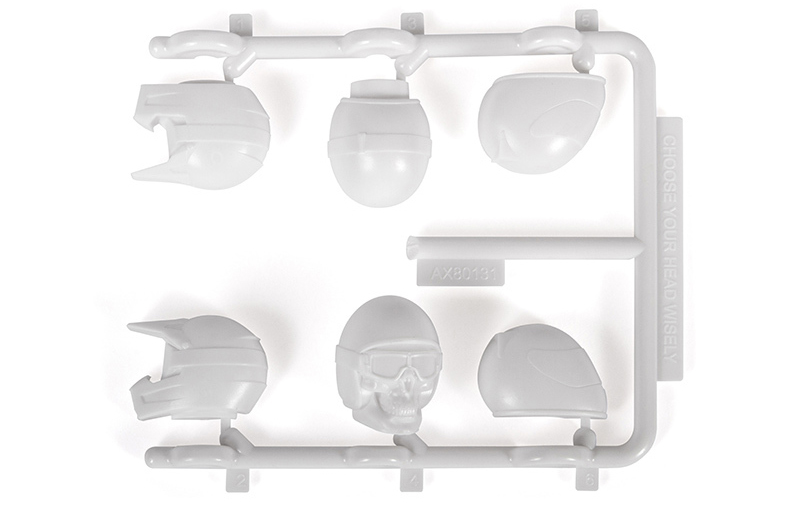 HELMET SET INCLUDED
Three different helmets to choose from - Skully, Moto-X and Rally!
Styrene construction
Includes decals for customization
Paintable for custom builds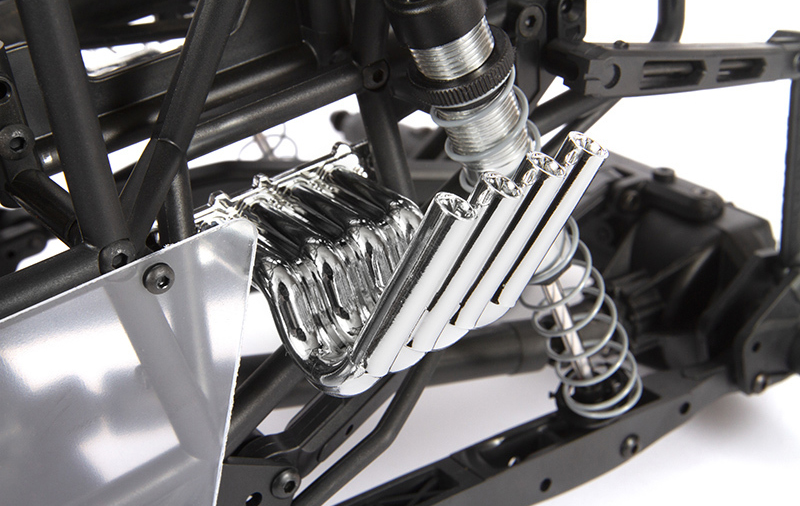 CHROME ZOOMIE STYLE HEADERS
We've included chrome zoomie style headers for added scale realism!
Specs
| | |
| --- | --- |
| Brakes | Integral with ESC |
| Bushing Material | Metal |
| Chassis | Composite molded tube frame |
| Charger | Sold Separately |
| Differential | Bevel gear |
| Completion Level | Kit |
| Final Drive Ratio | 7.6:1 |
| Front Track | 9.6 in (244mm) |
| Drivetrain | 4WD |
| Body | Sold Separately |
| Gear Pitch | 32-Pitch |
| Ground Clearance | 2.9" (74mm) |
| Internal Gear Ratio | 2.6:1 |
| Motor Size | 550 sold separately |
| Motor Type | 550 size brushed sold separately |
| Power Type | Electric |
| Product Height | 10.6" (270mm) |
| Product Weight | Approximately 6.4lbs (2.90kg) w/o battery, 7.1lbs (3.22kg) w/2S LiPo battery |
| Product Width | 13.2" (335mm) |
| Radio | Sold |
| Rear Track | 9.6 in (244mm) |
| Pinion | 14T |
| Shock Type | Aluminum body oil-filled coil-over |
| Servos | Sold Separately |
| Scale | 1/10 |
| Receiver | Sold Separately |
| Approximate Assembly Time | 5-7 Hours |
| Ball Bearings | Full set |
| Battery | One 2S LiPo sold separately |
| Battery Tray Dimensions | L, W, H, 5.45 x 1.81 x 0.98" (138.5 x 46 x 25mm) |
| Wheelbase | 13.9" (353mm) |
| Wheel Type | 2.2 Monster Truck |
| Spur Gear | 56T |
| Suspension | Front and rear solid axle, rear sway bar |
| Tire Size | 2.2 inch |
| Tire Type | 2.2 Monster Truck (sold seperatly) |
| Speed Control | Sold Separately |
| Water-Resistant | Yes |
---
---