---
The Reve D Aluminum Spring Retainers increases suspension performance due to reduced spring movement within the spring cups and retainers. 
Depending on your set up, the height of the spring retainers is offered in four different sizes. The 0mm type features the same specifications as the YD-2 Yokomo retainers, and the other three sizes can be used for different tuning options - or for a wide variety of other shock dampers and RC drift cars. Increasing offset size (larger offsets) increase chassis roll, and improve side grip without compromising traction performance.
Pick from the four different offset types above - 0mm, 2mm, 4mm, and 6mm.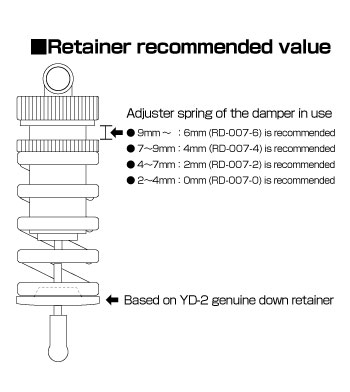 Yokomo YD-2
Note: This list may not be 100% accurate or up to date, and is meant to be used as a guideline for compatibility.