PUSHING THE BOUNDARIES
1:8 scale off road racing is one of the hobby's most challenging disciplines; it requires a high standard and demands attention to detail. The latest development to come from Associated Electrics' Area 51 is designed to push boundaries of performance and build upon the number of accolades accumulated by the RC8 series.
RC8B4e Kit Features
Innovative front-end geometry with reduced inclined kingpin steering blocks are paired with a new wider upper suspension arm pivot for improved steering balance and predictable handling in all conditions
New gearboxes are specific to front and rear with larger 6x13x5 mm flanged bearing sizes resulting in longer life of ring and pinion gears. The front gearbox has an inclined pinion gear angle to straighten the center driveshaft for increased drivetrain efficiency and reduced phasing and vibration while the rear gearbox remains flat.
Front and rear suspension arms engineered to accommodate a wide range of flex and stiffnesses
One-piece anti-roll bar links mounted in-line with anti-roll bar with BHC for simplified assembly
Front upper arm includes a unique optional molded "wing" insert for increased front-end downforce
New rear wing mount has adjustable wing angle shims, significant strength improvements, an aerodynamic shape, and extra clearance for shock position adjustment
The adjustable rear wing has more vertical fins for increased straight-line stability, a taller rear wicker lip height for increased downforce and increased strength in various areas to reduce bending fatigue
New rear chassis brace is mounted centrally to the gearbox, which reduces material fatigue, centralizes shear forces, and improves the life of rear end drivetrain parts while allowing for three different chassis flex options
New rear hub features a symmetrical left and right common design with axle height inserts for adjustable roll center tuning
New captured CVA drive shafts design front and rear with center dogbone driveline
New chassis layout featuring two shorty-style only battery configurations. Both configurations include a centrally mounted center differential and in-line center driveshafts for superior drivetrain efficiency and equalized chassis balance.
Battery configurations are: Two 2S shorty "saddle pack" for lowest CG and exceptional weight bias, or one 4S shorty for simplified setup and more centralized weight bias
New RC8B4e specific side guards are narrower and feature integrated wire routing clips
+2° steering block arms
V3 differentials with 42T ring and 12T pinion gears for improved gear ratios
RC8B3.2 split center diff mounts with aluminum center top plate
16mm shocks equipped with locking spring cups and rod ends in improved material, V2 springs, 'stiff' style shock bladder, combination bleeder/emulsion caps, and blue aluminum threaded collars
RC8B3.2 narrow C and D arm mounts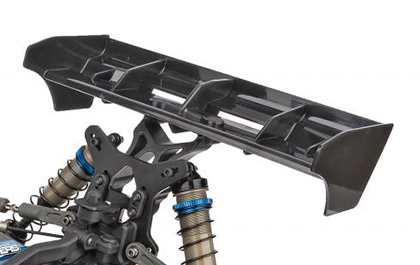 Improved Wing
Wing has vertical fins and a taller rear lip for increased straightline stability and downforce.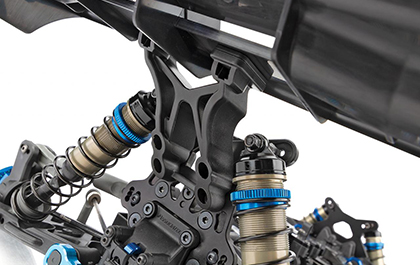 Improved Wing Mount
Wing mount features adjustability with angle shims, strength improvements, and aerodynamic shape.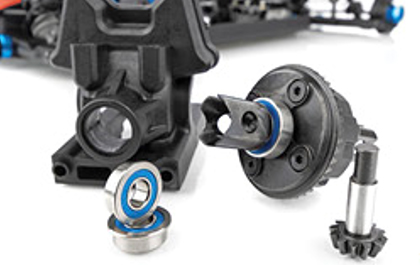 Improved Differentials
Front and rear differential designs are engineered for better drivetrain efficiency.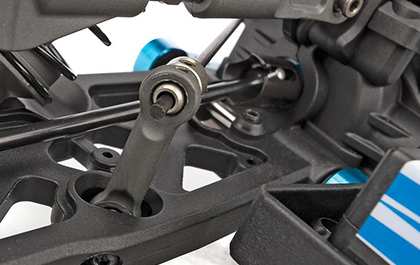 Improved Saybar and Axles
One-piece anti-roll bar link. New "stub" CVA axle with retainer sleeve and 93mm CVA bones.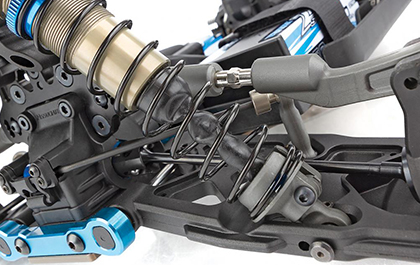 Improved Suspension Arms
Front and rear suspension arms engineered with optimal flex and stiffness.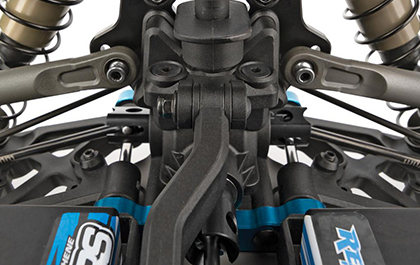 New Chassis Brace
New rear chassis brace is mounted centrally to the gearbox, which reduces material fatigue.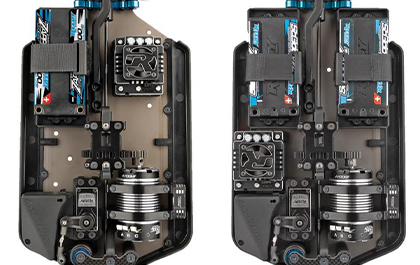 Flexible Battery Tray
New chassis layout features 2 possible battery configurations: Two 2S Shorty LiPo's or One 4S Shorty LiPo.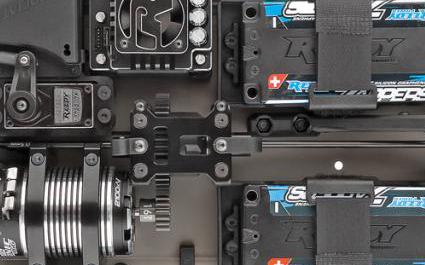 Center Driveline
Inline center driveshafts and center diff for superior drivetrain efficiency.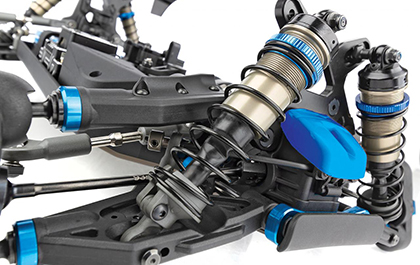 Improved Shocks
16mm shocks equipped with improved material for locking spring cups and camber link rod ends.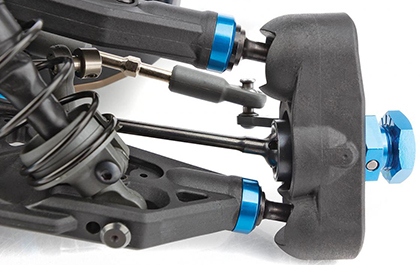 Improved Front Geometry
Innovative front-end geometry and new 8-Degree kingpin steering blocks.
Battery

Sold Separately

Body

Buggy, Unpainted, Uncut

Brakes

Integral with ESC

Charger

Sold Separately

Chassis

Aluminum

Completion Level

Kit

Drivetrain

4WD

Power Type

Electric

Product Length

19.13" (486 mm)

Product Width

11.99" (305 mm)

Radio

Sold Separately

Receiver

Sold Separately

Scale

1/8

Servos

Sold Separately

Speed Control

Sold Separately

Vehicle Type

Buggy

Wheel Hex Size

17mm

Wheelbase

12.65" (321 mm)